COVID. Quarantine. Isolation. Explained.
COVID, quarantine, isolation are words which we have heard for the last eight months, but do you know what exactly they mean and how they all differ? Let's take a look. 
 A little background hurts no one. 
COVID-19 is an infectious disease caused by a group of viruses called coronavirus. Coronavirus means a crown, and it gets its name from its structure. The virus looks like it has a crown around it.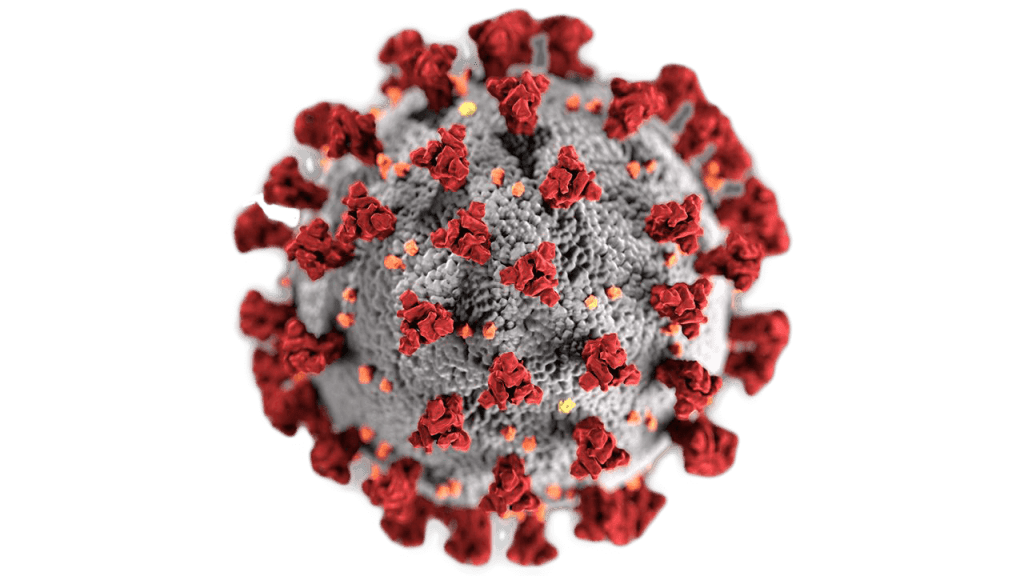 There are many different types of coronaviruses, and they infect a wide range of mammals and birds. Some even cause mild respiratory disease in people every year, so coronaviruses are not new. However, the virus that causes COVID-19 is new. 
SARS-CoV-2 causes COVID-19, and it originated from bats. The virus has been present in bats for a long time, but now the virus has evolved to be able to infect humans and be transmitted between humans. This is the 3rd type of coronavirus that has developed in the same manner. The earlier two coronaviruses caused Middle East Respiratory Syndrome (MERS) in 2012 and Severe Acute Respiratory Syndrome (SARS) in 2003.
Symptoms of COVID-19
Symptoms of COVID-19 include fever, cough, sore throat, tiredness, headache, loss of taste and smell and many others. The combination of symptoms and the severity of them varies from person to person and within regions. The most common symptom seen in patients with COVID-19 is cough, fever and loss of taste. However, most who have the virus may be asymptomatic, showing no symptoms at all and can still infect those around them.
If you are experiencing any of these symptoms call 1390 or use the COVID-19 self-assessment on the oDoc app to understand your symptoms and measures you need to take.  
How does COVID-19 get transmitted so rapidly from one person to the other? 
The virus in infected individuals lives in their respiratory tract, in their mouths, noses, and throats. 
There are two ways transmission of the virus can take place between individuals. 
When an infected person speaks, laughs, sneezes or coughs the virus can spread in forms of droplets. This droplet can be inhaled by non-infected people, thereby infecting them.

Likewise, the droplets can land and live on surfaces, and when a non-infected person touches these surfaces and then goes on to touch their nose, mouth or eyes, the virus can be transmitted into the non-infected person, thereby infecting them. 
Something to keep in mind is that SARS-CoV-2 is transmitted very easily. So this virus is transmitted between people in ways that make it very difficult to detect and prevent. People are infectious before they have symptoms, so they may be infecting others and not even know it. 
How? 
Keep reading!
The infection – a timeline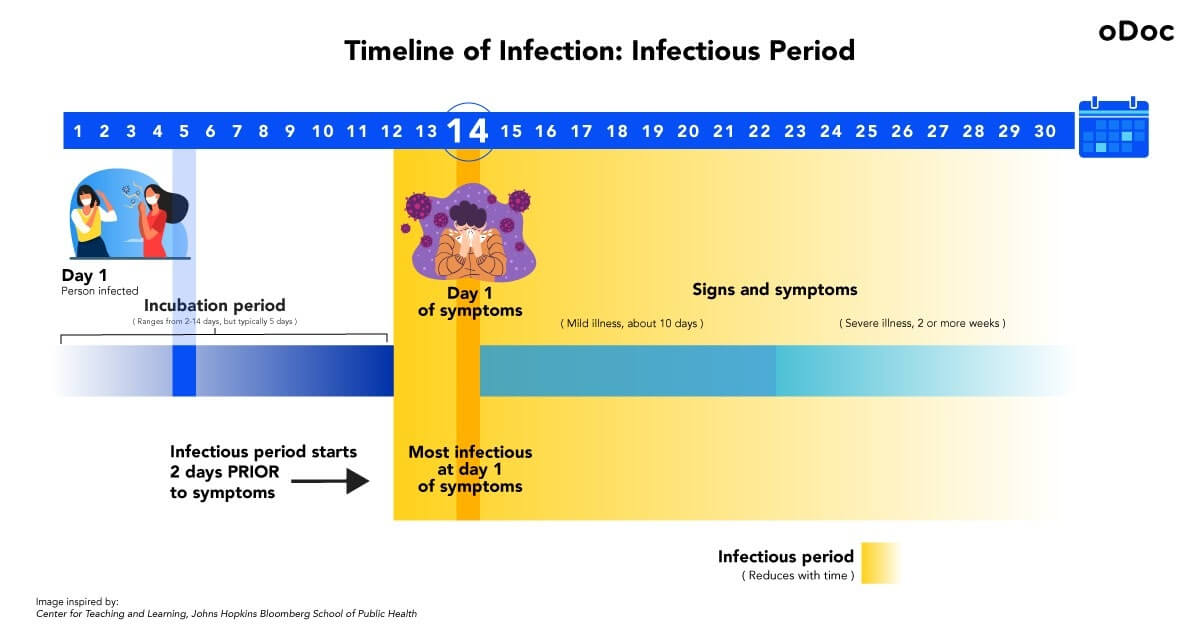 Let's say, on day 1, a person gets infected, and enters the incubation period. 
Incubation period – the time between contracting the virus and starting to show symptoms. An infected person  cannot transmit the disease to others during this period. The incubation period for COVID-19 lasts from 2-14 days with an average of about five days, and then the infected person  enters the infectious period. 
The incubation period for this particular individual lasts 14 days, so they will start showing symptoms on day 14. Day 1 of symptoms  (day 14 of the incubation period in this case) is when they are most infectious. An important thing to note is, even though signs only show itself on day 14, the infectious period begins two days before symptoms show (day 12). 
Infectious period – when the infected person  can transmit the virus to others. The infectious period starts two days before the infected person starts showing symptoms. An infectious person  needs to be isolated, and anyone who comes into contact with them needs to be quarantined. 
The infectiousness of an individual gradually decreases with time. A person is said to be completely free of COVID-19 only when they don't show any signs of fever for more than 24hrs, and symptoms get better.  In Sri Lanka, a patient is only declared as recovered if the PCR test comes out negative. 
Mild COVID-19 illness can last for about ten days, whereas severe conditions last for more than two weeks. 
Aren't quarantine and isolation the same thing?
Contrary to popular belief, they are very different. 
When an individual is tested positive for COVID-19, they need to be isolated. This is practised to keep infected individuals away from the healthy population. Isolation period is usually up to 10 days or until signs, and symptoms get better or no sign fever for 24hrs. 
If an individual comes in contact with someone who has tested positive but hasn't developed any symptoms themselves, they need to be quarantined. This helps prevent spread of disease that can occur before a person knows they are sick or if they are infected with the virus without feeling any symptoms. An individual needs to quarantine themselves for 14 days from the day they came in contact with the positively tested person. 
Suppose you live with a person who has tested positive and is isolating themselves in the same house/ shares communal space with you. In that case, you need to quarantine for the period they are isolating themselves and an additional 14 days from the last day they showed symptoms and signs of COVID-19. 
For example, if your family member tested positive on the 1st of November and recovered on the 14th of November, your quarantine will only end on the 28th of November (14 days from family members recovery). 
The future 
Until a vaccine or treatment for COVID-19 is found and distributed it is up to each one of us to follow safety protocols given by the government to keep ourselves and our local communities safe. Following the DREAM guidelines set out by the government is vital as we slowly resume into normalcy. Adjusting to the new normal may be difficult and frustrating but it is important that we avoid crowded places and gatherings in the near future. It is in our own hands to ensure the safety of ourselves and our loved ones. If you are experiencing any of these symptoms quarantine yourself and call 1390 immediately or use the COVID-19 self-assessment on the oDoc app to understand your symptoms and measures you need to take.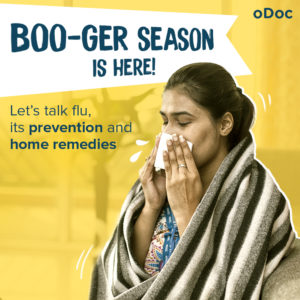 Boo-ger season is here! Let's begin by defining flu (short term for influenza) because it's usually misunderstood as fever or cold. Flu is a common
Read More »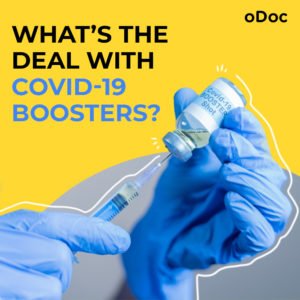 As Sri Lanka rolls out its COVID19 booster program, we break down the answers to your most pressing questions. Firstly, what is a booster? A
Read More »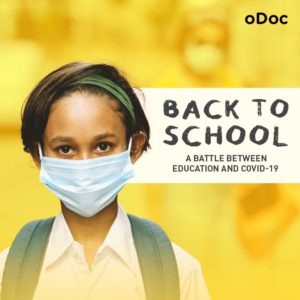 Back to School – A Battle Between Education and COVID-19 Students are finally returning to school. But as parents, many are worried about COVID-19 safety.
Read More »
Channel a doctor in just three taps
දැන්ම oDoc ඩවුන්ලෝඩ් කරන්න