You test positive for COVID-19. What now?
Updated August 12th, 2021.
Medically Reviewed by Dr. Rashmira Balasuriya BSc (Hons) MBBS PGCert (MedEd)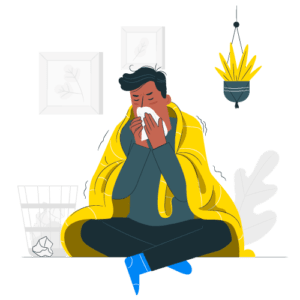 With the number of COVID-19 cases rising across the country, it is more likely than ever that we have either interacted with or know of a person who has been tested positive for COVID-19. And if we're feeling a little temperature or a sore throat, our next thought tends to be "Should I take a PCR test?". With the amount of ambiguity and daily change of regulations, we, at oDoc, want to keep you informed and updated with the latest news regarding COVID-19 processes in Sri Lanka.
What should you do after finding out you've been tested positive for COVID-19?
Contacting your local PHI
You can find out who your local PHI is from this website (On the navigation bar at the top, click 'Find PHI' and fill in your area details) The lab or hospital where you were tested for COVID-19 will also inform your local PHI and Ministry of Health.
Things you should keep in mind for your conversation with the PHI officer:
COVID-19 symptoms
How long you've been having these symptoms
Any known medical illnesses (i.e. asthma, diabetes, etc)
Any medications taken for known illnesses or after becoming COVID positive
Any allergies
Any previous surgeries
If you're a smoker or not
People you have been in contact with over the last few days
Have an emergency contact number of a family member/friend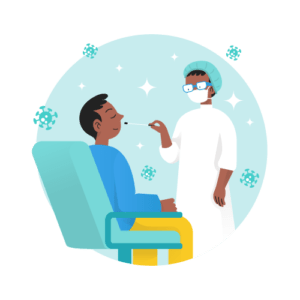 Home Isolation 
To reduce the burden on hospitals and COVID-19 care centers, the Ministry of Health has introduced the option of low risk COVID-19 patients isolating in their homes. Here are a few things to keep in mind when quarantining at home:
REST.
Remain in a separated well-ventilated room.
Avoid contact with others as much as possible. Identify one family member who is low risk to be in contact with you. Wear a surgical mask and wash hands before coming into contact with anyone else.
Do not share washrooms if possible. If sharing, you should disinfect the washroom after each use.
Eat a healthy diet.
Stop smoking.
Do not routinely take antibiotics or steroid medication. Only take medication prescribed by a licensed medical practitioner.
Have warm fluids frequently such as tea, kothamalli, jeewani
Steam inhalation – only for symptomatic relief and always ensure safety
Keep track of any new or worsening symptoms – If possible, keep a check on your basic vitals – temperature, pulse rate, respiratory rate (count the number of breaths per minute), blood pressure and oxygen saturation.
You should use separate cutlery, plates, dishes and bedding from the rest of the household members.
Clean frequently touched surfaces often.
Keep your bed linen and clothes in a laundry bag separate from others.
All household members should remain at home and avoid any contact with people who don't live in the same household.
No visitors should be allowed during the home isolation period.
Call 1990 if you have any difficulty breathing, chest pain or loss of speech/mobility.
Keep emergency contact numbers close by.
How will you be accessed during home isolation?
The area MOH will be responsible for triaging COVID positive individuals who need home-based care and who need hospitalized care.  Taking care of your mental health during this period of isolation is also important and can help in making you feel better, so consider speaking to a mental health professional during this time as well.
During your home isolation period, you can purchase Home Care with oDoc. You will need to inform your local PHI if you choose to use this service.Here's what you have access to:
A dedicated doctor assigned to you to virtually monitor your symptoms everyday 
A Pulse Oximeter and Blood Pressure Meter (both NMRA approved) to be sent to your home
A Wellness Package of masks, gloves, sanitizer, and a box of Panadol to be sent to your home.
Click here to find out more about Home Care with oDoc.
A minimum of 14 days is required for the home isolation period. The Ministry of Health and your doctor will make the decision on when you should stop the home isolation period. This will depend on your symptoms and how many days have passed since the onset of symptoms. If the MoH decides you can remove yourself from isolation, it is still recommended that you quarantine at home for a further 14 days.
Government/Private Care Centers
If the PHI/MoH decides that you need to be treated at a hospital or care center, there are options to stay in a government care center for free or a private care center for a fee. If you choose to quarantine at a private care center, you can find all the information on space availability, rates and medical support here.
You may have to remain at home before a bed becomes available at a COVID care center. If you need to remain at home for a few days, please follow the above guidelines. Your local PHI will transfer you to an Intermediate COVID care center when a bed becomes available to you.
How do you know when to seek immediate medical attention?
Progressive worsening of persistent symptoms
Difficulty in breathing at rest or after mild exertion
Oxygen levels at rest is below 96% or less than 94% after mild exertion (check with Pulse Oximeter)
If any of the above occurs, please go to the hospital immediately or call 1990 for an ambulance.
How long after you've recovered from COVID-19 can you take the vaccine?
If you've had a mild/moderate version of COVID-19, you can take the vaccine 2 weeks after recovery. If you've had a severe form of the disease AND received monoclonal antibody/plasma therapy as part of your treatment, you will have to wait at least 1 month before vaccination.
We will continue to update this article if and when regulations change so keep checking this space for any COVID-19 related news in Sri Lanka.
Watch our short video explaining everything you need to know about the highly contagious and transmissible Delta Variant here.
If you would like to read more about the SinoPharm and Sputnik vaccines, read more here. 
If you or a loved one would like further advice on COVID-19 symptoms, consult with our on-demand GPs who are available 24/7.  You can download oDoc here.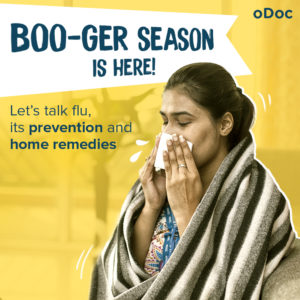 Boo-ger season is here! Let's begin by defining flu (short term for influenza) because it's usually misunderstood as fever or cold. Flu is a common
Read More »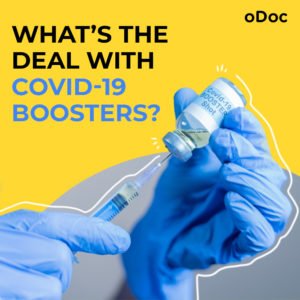 As Sri Lanka rolls out its COVID19 booster program, we break down the answers to your most pressing questions. Firstly, what is a booster? A
Read More »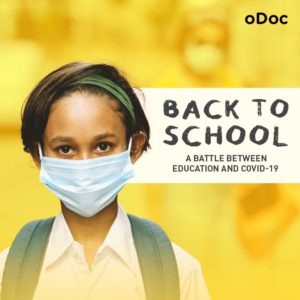 Back to School – A Battle Between Education and COVID-19 Students are finally returning to school. But as parents, many are worried about COVID-19 safety.
Read More »
Channel a doctor in just three taps