How digital companies are reducing the strain on our health sector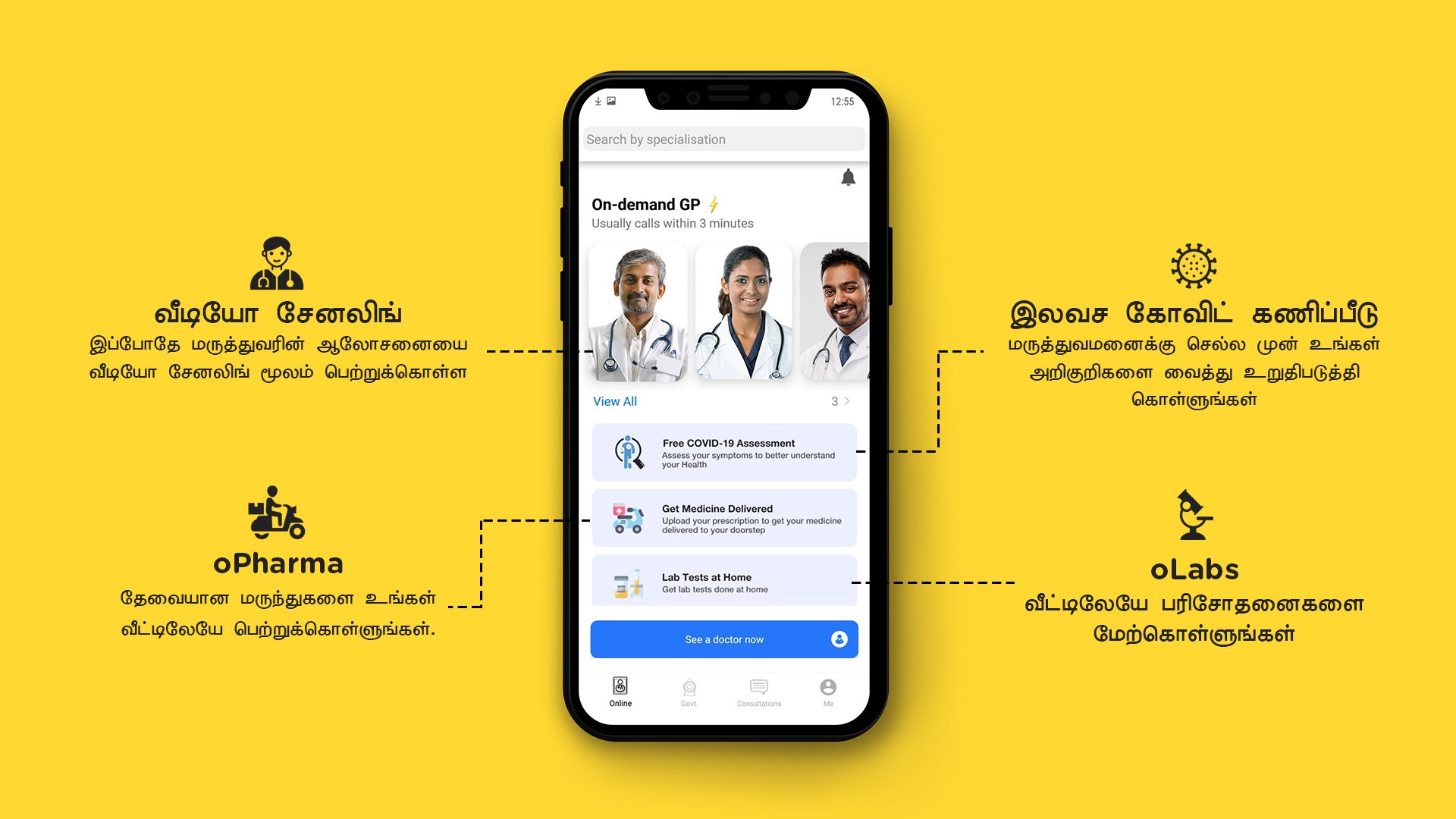 As demand for medical professionals, hospitals, and other healthcare facilities keeps growing across Sri Lanka, there has never been a greater need to diversify the country's healthcare sector and find a more efficient solution in order to reduce the overall strain on healthcare professionals.This has brought in a new appreciation towards local digital healthcare services such as telemedicine companies and e-pharmacies, and they have seen a significant growth in the usage of these services since the start of the Covid-19 outbreak.
In light of this, The Sunday Morning Business spoke to two of the most prominent players in this market segment to determine the response they have received during the prevailing virus outbreak in the country.
Speaking to The Sunday Morning Business, Dr. Janaka Wickramasinghe, the Co-founder and Chief Medical Officer (CMO) of oDoc, Sri Lanka's largest telemedicine company, stated that the demand for oDoc has increased immensely over the past few months, especially with the Government endorsing telemedicine as a response to staying safe during Covid-19.
The oDoc app allows patients to consult doctors via video, audio, or text, thus enabling patients to do so in the safety and comfort of their own homes. It also allows patients to channel Sri Lanka Medical Council (SLMC)-registered doctors, obtain medical advice, receive prescriptions, and even get medicine delivered.
Currently, oDoc has over 200,000 Sri Lankan users and acts as a B2B (business-to-business) app for over 60 local corporates by helping the employers provide their employees with medical care. Recently, the home-grown service expanded their operations internationally to India and the Maldives. It also won the Commonwealth Digital Health Award in Telemedicine and the e-Swabhimani Digital Social Impact Award.
"In a pandemic like this, where even stepping out could increase the risk of us catching the virus or spreading it, telemedicine is the best way forward. You minimise the risk of contracting and spreading the virus. You can use oDoc to get your initial consultation done and get advice on what you need to do based on your symptoms," said Dr. Wickramasinghe.
Telemedicine looks to address several issues of the local healthcare system in the current environment. These include the congestion of public healthcare facilities which leads to an increase in the transmission of the disease, access to healthcare, healthcare expenditure due to increased demand for tertiary healthcare, and the risk of exposing elderly patients to Covid-19.
According to Dr. Wickramasinghe, oDoc gives three solutions for the issues plaguing the current healthcare system: Giving initial medical advice, care for domestic isolated, and care for vulnerable groups.
Initial medical advice includes unwell individuals first doing online consultations without having to go to a hospital. After the consultation, they can be directed to a hospital for examination if needed. This is set to reduce congestion and the risk of infection from other patients.
As for the second use, individuals who have been quarantined can use the platform to obtain medical advice as their movement is restricted.
Finally, vulnerable groups such as the elderly with other underlying health conditions, who are doubly vulnerable to Covid-19 and have seen higher mortality rates the world over, can use the platform to avoid visiting crowded hospitals unless absolutely necessary. Prescription renewals could also be handled by the platform.

The platform also looks at improving the health of citizens by giving increased access to healthcare, reducing healthcare expenditure by reducing demand for tertiary healthcare, and increasing the productivity of citizens and associated economic benefits.
Dr. Wickramasinghe stated that since the start of the pandemic, the app has had over 25,000 downloads, with around 5,000 video consultations completed just last month. Accordingly, in order to deal with this sudden increase in consultation volumes, they have had to bring onboard over 150 additional doctors to the platform. This has increased the number of doctors on the app to over 600.
He stated that all these doctors have to follow the most up-to-date protocols published by the Ministry of Health and Indigenous Medical Services specifically when dealing with Covid-19. Furthermore, he said the platform has joined hands with government doctors to launch the Sri Lanka National Telemedicine Service on behalf of the Ministry of Health, with the support of the Information and Communication Technology Agency of Sri Lanka (ICTA).
"Through this CSR (corporate social responsibility) initiative, every Sri Lankan has the option to obtain a video consultation with a government doctor free of charge via oDoc from the comfort of their homes," he explained.
This has increased daily consultations through the app by 10x and made oDoc the number one medical app on Google Play and Apple App Store for Sri Lanka, even above other e-channelling apps.
"Many users are downloading oDoc to use our advanced Covid Self-Assessment Tool, which is based on WHO (World Health Organisation) and CDC (Centres for Disease Control and Prevention) guidelines that are continuously updated. It is available in Sinhala, Tamil, and English," he noted.
Dr. Wickramasinghe further stated that from their B2B side, the platform has signed over 20 companies to their corporate subscription programme since the beginning of Covid-19, which increased their total number of corporate partners to over 60.
He explained that the biggest challenge they faced before the outbreak was convincing the user to do the first consultation on oDoc. However, with the Covid-19 outbreak and telemedicine being the first response to it, a lot more people have used it and felt how convenient and effective it is. Due to this, even post-Covid it will be the new norm, he said.
Pharmacy online
Healthnet is Sri Lanka's first full service e-pharmacy. According to its CEO/Director Deeshana Basnayake and COO/Director Rangika Wijesinghe, their orders and deliveries went up a few fold compared to their usual traffic during the few months prior to the outbreak. They stated that while it is hard to provide an exact number, the number of deliveries has increased by a few thousand.
First introduced in 2016, Healthnet delivers pharmaceuticals to the consumer's doorstep for the existing retail market prices without any extra charge. Consumers can place their order by sending their prescriptions and required personal details via the Healthnet website, mobile app, email, Viber, WhatsApp, or general line. The platform provides high service quality due to the end-to-end services provided in-house.
Healthnet sources all medications directly from licensed importers and authorised agents. Prescriptions are prepared by Sri Lanka Medical Council (SLMC)-certified pharmacists and delivered using temperature-controlled transport units. The platform adheres to the regulations and guidelines set forth by the National Medicines Regulatory Authority (NMRA) functioning under the purview of the Ministry of Health.
"Consumers who are essentially patients need to have uninterrupted access to health services, despite any prevailing situation," said Basnayake and Wijesinghe.
They explained that since the outbreak, consumers have had no physical access to a pharmacy, which has made it mandatory for them to reach out to online pharmacy services, similar to the way they have for other essential goods such as food. Due to this, the platform has experienced a significant shift in consumer behaviour towards online pharmacies.
Basnayake and Wijesinghe stated that since the outbreak, Healthnet has been seeing an increase in daily traffic to their website, amounting between 30,000 and 40,000 visits per day. Furthermore, despite this increase in operational demand, they have faced challenges of having to work with minimum resources due to the lockdown and being only able to mobilise a section of their staff.
In order to handle this increase in demand, they stated that they have activated remote working and working-from-home procedures for some staff, changed some of their processes that were identified as bottlenecks, optimised available resources, and stretched the working hours while introducing two shifts for operations.
Speaking on the training procedure of their delivery partners during the current environment, the two stated that their deliveries are anyway done in compliance to the guidelines stipulated by the NMRA through their own staff. However, during the Covid-19 pandemic, they have further enhanced this by following WHO standards wen it comes to social distancing, such as conducting deliveries while wearing personal protective equipment (PPEs) and cashless transactions.
Basnayake and Wijesinghe stated that while there could be a certain percentage of consumers who may go back to the conventional methods post Covid, those who believe in social distancing and have experienced the benefits of online services will continue to patronise digital services. Healthnet currently delivers within the Colombo District and intends to expand to other regions of the country.
The greatest advantage of digital healthcare services such as telemedicine and e-pharmacies is that they promote accessibility in medical care, which is currently a hurdle faced internationally as well as locally. Therefore, the increasing popularity of them in Sri Lanka is something that should provide comfort to us all.
View Article on The Sunday Morning LK